SeeSaw Tomboy Style: B&W Photo Project #4
My seven year old daughter reminds me daily that she is now a tomboy and tomboy's do things differently.  Out have gone the Snow White dresses swapped instead for her brother's Bat Man onsie.
This Tomboy approach also applies to playing at the park.  Here she's bossing instructing her brother to keep the seesaw balanced whilst she does her daredevil "only-Tomboys-can-do-this" trick of walking from one end to another then jumping off.
There's only so much Little Mister can take of this 'oh it's so dangerous' narrative; he wants to get in on the action, so he walks, to Mademoiselle's dismay (look at her face!)
Just one of those moments at the park that made me smile.  Little moments like this, of happiness and laughter, which are just as important to capture and be remembered, as much as the big milestones!
Once again I'm linking up to Charly over at PODcast and her Black & White Photo Project. I liked these photos in monochrome because to me this is classic childhood play, timeless almost, and it added a sense of nostalgia, which is what these photos will be in a few years time when these guys have grown up!
If you're interested in taking photographs in B&W here's a useful (and quick!) tutorial to get you going or check out this Pinterest page for some truly inspiring black & white photography.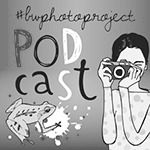 And if you like what you see why not add me to your collection of Blogs over at Bloglovin. See you there xx