Pony Riding @ Horsewyse #CountryKids
At 7 years old Mademoiselle has reached that pony loving stage.  If she's not reading the Pony Detectives Series by Belinda Rapley- a sort of Enid Blyton Adventurous Four on ponies – she's braying *get it?!* for riding lessons.
As any parent with limited funds would do, we gave in to her *what can I say?!*  We found Horsewyse Equine Riding & Learning Centre in Long Crendon, on the borders of Oxfordshire and Buckinghamshire
Horsewyse is one of the best Riding Centres I've been to, it's the stuff of a young girl's dream.  At the end of a long, country lane is a yard with stables off it, a huge indoor training paddock and 30+ acres of grassland. There are pony loving teenagers buzzing around the yard and a real sense of camaraderie.
This suits Mademoiselle to a tee as she aspires to be the fifth member of Belinda Rapley's pony mad detective team.
I used to ride as a child and then sporadically as a parent, so I know how expensive and time consuming this hobby is, and how frustrating if you're not taught to ride just given a riding experience.  Horsewyse feels different from the start.
From your first lesson Horsewyse teaches you techniques to learn to ride independently & with confidence so you can enjoy all aspect of pony riding and care, not just experience sitting on one.  It's done by using vaulting techniques which encourage and teach balance, confidence and ability to move on to enjoying independent riding.  And did I say how spacious it's indoor training area is?!
In half term Mademoiselle attended a Pony Care Day at Horsewyse with a group of other children doing the pony thing – saddling up, mucking out, riding and grooming.  She absolutely loved it, and her knowledge and confidence grew ten fold after just one day.
Listening to her talk with such passion and enthusiasm about her pony day constantly – and I mean constantly – wore us down *again* and we gave in to more lessons, which she is just excelling at.
Mademoiselle has quite an analytical approach to things, and she's used this to quickly understand how to manage the horses.  On her second lesson she was confidently taking her pony Badger, who is known to be a bit cheeky, across vaulting poles at a trot, guiding – or steering – with skill.
Mademoiselle is in loovvee!
Watching her ride takes me back to when I was a girl, enjoying the exhilaration of being on a pony, imagining the pony is yours and that you'll be winning rosettes at the local gymkhana!
In all honestly we would never be in a position to buy her a pony. But I know that if this pony bug really does bite she'll have access to Horsewyse who, as a not-for-profit organisation, will welcome her with open arms as a volunteer in exchange for extra riding.
How about you, has your little one discovered their pony-crush phase yet?
 I'm linking up with Fiona over at Coombemill.com and her #CountryKids linky. It's a great place to discover ideas about what to do and where to go for kids who enjoy the outdoors!
And Victoria over at Verily Victoria Vocalises to share the #PoCoLo love xx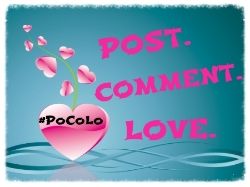 And with Ethan's Escapades and her 'Small Steps Amazing Achievements' Linky
And, if you like what you see add me to your Bloglovin collection