Black & White photography Project #3 : Cuttle Brook
This half term has been quite busy but in between we've had some lovely, relaxed outdoor moments, many spent in Cuttle Brook, a nature reserve literally on our doorstep. We've taken part in a nature day quiz (review to follow) and just enjoyed the reserve for what it is – a carefree place to enjoy the great outdoors.
I managed to capture these snapshots on our way to play pooh-sticks from Watkins bridge. This was on our way to discovering this swinging over the brook!
The long grasses are a favourite of Mademoiselle's although it's harder for Little Mister to keep up because in places the grass is almost as tall as he is.
I love this photo as he's virtually swallowed up in the long grasses!
It's moments like this that I remember why we swapped our London home for this little corner of Oxfordshire.  Happy days!
Hope you enjoyed your half term.
I'm once again linking up with Charly @ PODcast and her Black & White photography project #BWPhotoProject
Taking photography in B&W is more of a challenge, and if you're interested here's a useful (and quick!) tutorial to get you going or check out her Pinterest page for some truly inspiring black & white photography.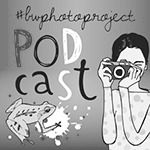 And with Fiona over at Coombemill.com and her #CountryKids linky. It's a great linky, lots of ideas about what to do and where to go for kids who enjoy the outdoors!

If you like what you see please click on the Wellies and add me to your Bloglovin collection of blogs xx