Being seven and a half years old
Me & Mademoiselle had a big argument at bedtime.  It was so silly; over her drying herself. She dug her heels in and so did I.  It was petty. It was late, we were both tired, and I keep forgetting she's now seven and a half.
Being seven and a half must be frustrating for her at times.  She's about to leave the early years foundation stage at school and leap head long into the equivalent of Middle School, mixing with much older children.  She can read & write exceptionally well, she's influenced by the older girls in her Belinda Rapley Pony Detective books who seem to go out 'whenever they want' and at school she's being encouraged to be more independent, be bold, have opinions.  But she comes homes, just wants cuddles and is happy to watch Peter Rabbit on Cbeebies with her brother.
Then suddenly, an exertion of power will appear from a simple request to turn the TV off ready for dinner, or to wash her hands.  "I don't need you, I can do it m.y.s.e.l.f" is hissed out with equal attitude and emotion, or the "I'm not listening and I don't care a.n.y.w.a.y" phrase lands like a bomb, and I don't know how to react.
My initial reaction is to treat it like I would a two year old who starts to pout because they can't get what they want. The reaction I get back from my seven and a half year old is not one that I'm used to, it's shouting or stomping off (and I do mean a stomp, with a flat foot and lots of noise!) – I don't know what to do, I haven't read Part II of the child instruction manual yet!
We're in a real inbetweenie kinda age.
That's how our row over drying herself started.  I asked her not to forget to dry her belly button, she responded with a 'no I'm not going to' and it spiralled.  Maybe she thought my question was a little patronising and responded accordingly.  Maybe I need to remember to trust her a bit more, give her more space to do things for herself and let her make more of her own mistake.
But she's only seven and a half.  She's still afraid of Scooby Doo, she believes in Father Christmas, is wobbly about doing her first sleepover and in the mornings likes coming into our bed for morning cuddles.
But then again she is seven and a half;  she reads books like Clarice Bean where the protagonists are slightly pushy, she's savvy and smart and is aware of the world around her, she watches Taylor Swift on YouTube and thinks 'You've Been Framed' is the funniest thing. Ever!
We encourage Mademoiselle to be confident and not be afraid to question or ask 'why?'  I need to trust her judgement a bit more, remember she's seven and a half, and needs to be responded to differently that her younger brother.  Sucking up the pre-teen angst that can sometimes come my way will be a much tougher job.
It's another learning curve that we're both going through, and I just hope she trusts me to get it right!  Having children is hard but raising them is even harder.
I'm linking this post with the lovely Sara at Mumturnedmom and The Prompt
Click on the badge below & springboard your way to discover a range of thought provoking writing
This week's phrase is 'trust'
And Victoria over at Verily Victoria Vocalises to share the #PoCoLo love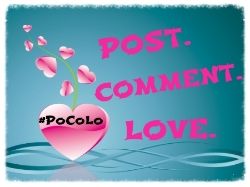 If you like what you see add me to your Bloglovin collection